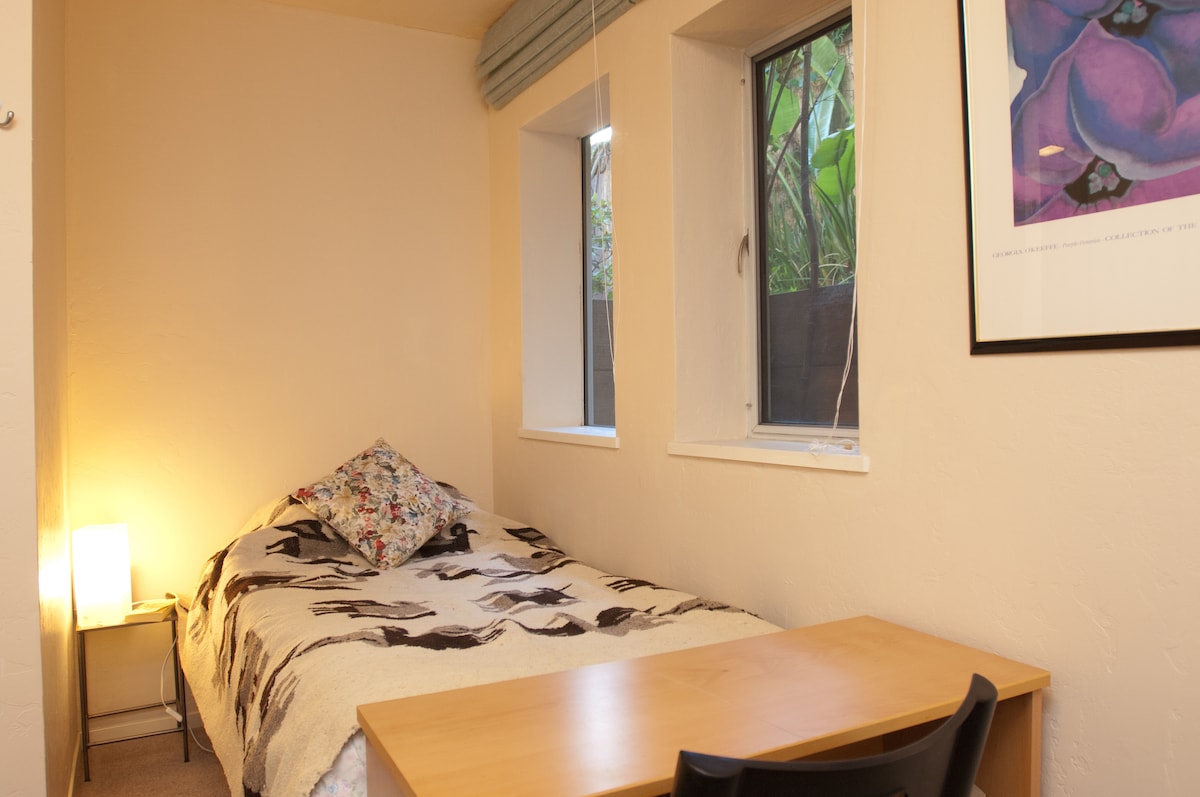 Privatzimmer
2 Gäste
1 Bett
Über dieses Inserat
Mit Airbnb kannst Du einzigartige Unterkünfte finden - von Häusern und Wohnungen bis hin zu Baumhäusern und Iglus. In den Details des Inserats unten wird beschrieben, was Du in dieser Unterkunft findest. Solltest Du Fragen haben, kannst Du den Gastgeber direkt kontaktieren.
---
Art des Bettes:
Richtiges Bett
---
Ausstattung
Küche
Ort, an dem Gäste ihre eigenen Mahlzeiten zubereiten können
Wesentliches
Handtücher, Bettwäsche, Seife und Toilettenpapier
Heizung
Zentralheizung oder Heizlüfter in der Unterkunft
+ Mehr
Küche
Küche
Ort, an dem Gäste ihre eigenen Mahlzeiten zubereiten können
Internet
TV
Wesentliches
Wesentliches
Handtücher, Bettwäsche, Seife und Toilettenpapier
Shampoo
Heizung
Heizung
Zentralheizung oder Heizlüfter in der Unterkunft
Klimaanlage
Waschmaschine
Waschmaschine
Im Gebäude, kostenlos oder gegen Gebühr
Trockner
Trockner
Im Gebäude, kostenlos oder gegen Gebühr
Kostenloser Parkplatz auf dem Grundstück
WLAN
WLAN
Ununterbrochener Zugang in der Unterkunft
Kabelfernsehen
Frühstück
Frühstück
Es gibt Frühstück.
Haustiere erlaubt
Für Veranstaltungen geeignet
Die Unterkunft eignet sich für Veranstaltungen mit 25 oder mehr Teilnehmern
Rauchen erlaubt
Für Rollstuhlfahrer geeignet
Für Rollstuhlfahrer geeignet
Das Gebäude und die Unterkunft sind für Gäste im Rollstuhl leicht zugänglich
Aufzug im Gebäude
Kamin
Türöffner/Gegensprechanlage
Pförtner
Pool
Pool
Privat oder öffentlich
Whirlpool
Fitnessstudio
Fitnessstudio
Kostenlos, im Gebäude oder in der Nähe
Rauchmelder
Kohlenmonoxid-Detektor
Erste Hilfe-Set
Sicherheitsanweisungen
Sicherheitsanweisungen
Hinterlegte Notfall-Informationen und -Telefonnummern
Feuerlöscher
---
Zusätzliche Personen:
23€ / Nacht nach dem ersten Gast
---
Beschreibung
Spacious room in beautiful home with single bed and a second futon bed that can accommodate one. Very large closet space, desk and shelves. Ideal for one person who is staying for several weeks, visiting Stanford

1 single bed and a single futon bed with large walk in closet and lots of deep shelves. Ideal for extended stay by a single person, OR for a small family coming visit Stanford.
The weather is unbelievably wonderful - sunny skies most of the year, allowing you to sit outside and enjoy the birds in the garden or read a book on the back porch.
While we do welcome children, your stay is subject to your understanding that our home is not child proof'd.
Please note that the bathroom on the same floor as this room, is shared with 3 other rooms. There is a second bathroom with walk-in shower on the upper floor if the one on the same floor is occupied.
FREE FAST Wifi
Large single room with window looking out to private garden with a Japanese Garden with Tea Pavilion and water falling into a gold fish pond. Enjoy an oasis of calm in the heart of Silicon Valley, walking distance to downtown Palo Alto and Stanford.
There is a shared bathroom (toilet and shower over tub) on the same floor as the room and a second guest bathroom on the upper level - with toilet and shower.
Welcome and orientation.
We share the kitchen, laundry and family/TV room with our guests.
Ross and Mei Lin work full time and so we do not offer shuttle or concierge services.
Live in the heart of the heart of Silicon Valley. Downtown Palo Alto is a 5 minute stroll away starting with the Whole Foods Market, Peets coffee, the best brunch place St Michaels Alley and more. The neighborhood is ranked as a Walker's Paradise, earning a 97% ranking. There are 3 drug stores within 10 minutes walk, with a dry cleaner, sewing shop, shoe repair shop, casual diner and hardware shop even closer.
This room is in an ultra convenient location in the Professorville section of Palo Alto 6 blocks south of University Avenue, where you are 30 minutes walking distance to the Main Quad in Stanford.
The main Palo Alto train station is 10 minutes walk where you can ride Caltrain to San Francisco and San Jose. Located there is the main bus terminal in Palo Alto and the Marguerite Shuttle takes you all over Stanford free of charge.
Within 2 blocks you have the wonderfully convenient Whole Foods Market (hot and cold food bars, bakery and organic produce), Shoe Repair, Mexican restaurant, Peet's Coffee, St. Michael's Alley which is the top brunch location in Palo Alto. You will live in a single family home in one of the oldest parts of Palo Alto with the historic HP "Garage" a national historic monument is just 3 blocks away. There are two parks - within 3 blocks and the downtown Library is 1 block further. There are about 5 gyms within 4 blocks. Or you can run around Campus drive 3 miles, or walk 30 minutes to the Hoover Tower to get a birds eye view of the beautiful Stanford Campus - with free aromatherapy while stepping on the leaves of the the Eucalyptus Gum trees.
The Stanford Shopping Center is 15 minutes walk as is every part of University Avenue including great coffee places like Cafe Venetia, Coupa Cafe, Il Fornaio, La Boulange, University Cafe, La Baguette, Prolific Oven....
Shared bathroom, separate entrance, guest fridge, laundry facilities and access to kitchen by arrangement. All linens provided. Housecleaning and sheets changed weekly. Special rates for weekly and monthly stays.
You are welcome to borrow our bikes, you must bring your own bike lock. You are responsible for replacing the bike if the bike is stolen. If taking the train to SF, walk to the station, don't leave the bike at the station, it can be stolen. Parking the bike around Stanford requires a good bike lock, as bike theft is rampant.
+ Mehr
---
This is a single person room, which can accommodate an additional person on a futon bed.
No smoking in house or garden.
Please take off your shoes within the house.
The family room has a flat panel TV and desk and dining table for guest use - it is a shared space and all the house may use it - please be considerate of others.
Towels and sheets changed weekly but you must leave your door open on Monday to indicate you wish them changed by our housekeeper Angela and her sisters.
Shared bath with a drawer for each guest to store personal toiletries, please leave common space clean and clear for others to use after you.
This house is not Child Proof.
This is not a hotel, it is our home. Both Ross and Mei Lin work full time and we appreciate guests who understand that while we strive to be helpful, we are not able provide a shuttle or concierge service for our guests. We do enjoy hearing about where you come from in the US or internationally. We are from Australia and Singapore and have lived in Palo Alto for many years and are a good resource for our guests.
+ Mehr
---
3 Nächte Miindestaufenthalt
Ab dem 1. Juni 2015 - 31. August 2015 beläuft sich der Mindestaufenthalt auf 2 Nächte.
Mei Lin was a fantastic host who went above and beyond to deliver an exceptional experience. The room and amenities fit my needs and the location was very convenient. I would be honored if i could be a guest again at her place.
+ Mehr
Aus Cornish, Utah ·
Juni 2015
Mei Lin was a gracious host with a lovely home situated in the perfect location for any visitor to Palo Alto. Easy walking distance to shops, Caltrain, Stanford, University Ave., etc. I'd recommend it for anyone traveling to the area!
+ Mehr

Antwort von Mei Lin:
Dear Patrick
Thank you for your kind review - your feedback is also very very helpful and I am really grateful for you taking the time and making the effort to let me know. Your good articulation of the situation will help all future guests and I'm happy to know about this so I can do something about it.
Mei Lin
Meilin was the perfect host during my stay in Palo Alto. Her place was conveniently located in a very beautiful and quiet neighborhood, vey close to Hewlett & Packard's garage! The room was excellent, with very confortable twin beds, and a little desk which I used quite a lot to finish a research project. The bathroom was super clean. Also, I had the opportunity of using the washing machine, which is a plus.
I enjoyed my everyday strolls through Emerson St to get to the Caltrain Station where I took the Marguerite Bus to Stanford. In Emerson St you will find lots of shops and restaurants, and the Whole Foods is conveniently located a couple of blocks from Meilin's place.
If I ever come back to Stanford for work, I'll definitely stay again with Meilin! :-)
+ Mehr
Mei Lin was very helpful over booking an extra person. She made arrangements (which worked!) to receive us as she wasn't present herself. Their home was in a quiet neighbourhood, but was easily walkable to the university and to a local diner for breakfast and lots of nice restaurants. There was access to a washer (with detergent) and dryer, and there was a microwave if one wanted. It was all very clean.
+ Mehr
Aus Stanford Bishop, Vereinigtes Königreich ·
Juni 2015

Antwort von Mei Lin:
Dear Patsy
I am so glad you enjoyed your stay! Thank you for mentioning all these nice and true things about our Airbnb - we can't take credit for making sure all these things are nearby, but we do enjoy making sure our guests have access to conveniences that will make their stay easier and more enjoyable
Mei lin
The host met me, showed me around, gave me keys, and introduced me to others present in the AirBnB. There was a period of about one hour, when no one was home. So I went to dinner, came back, and the host was present.
+ Mehr
Aus Lynnwood, Washington ·
Juni 2015

Antwort von Mei Lin:
David and I tried mightily hard to communicate with each other as I tried to find out when he might arrive - I accept full responsibility for not communicating more than 1 day ahead of time to know when he might arrive. I am learning from this experience and I appreciate David's kind feedback and understanding that I had hoped to communicate via email and txt message but all of those attempts sadly failed to establish communication before he arrived.
I booked for my parents and they enjoyed their stay. The room is clean, lovely and comfortable, they were able to rest well at nights. Mei Lin and Ross are excellent hosts, they invited my parents to use the kitchen and visit their gorgeous garden. The location is also great, a lot of nice places in walking distance.
+ Mehr
I had a great experience staying at Mei's place. The room was small but comfortable, there were clean towels, bed sheets and a bathrobe. Mei was really nice and helped me move my luggage on my last day of the stay. Overall a great place to stay!
+ Mehr
Aus College Park, Maryland ·
Mai 2015
Über den Gastgeber, Mei Lin
I have lived and worked in Asia, Europe, Australia. We are alumni of MIT, Stanford and Australian National University, and affiliated with the National University of Singapore. My husband Ross and I regularly travel to Asia and Australasia, and appreciate the joy of travel, and understand the needs of travelers - so we make your stay as enjoyable and trouble-free as possible.
We extend an especially warm welcome to international visiting scholars, interns and the families of Stanford University students, faculty and staff. Our well-equipped kitchen is ready for joyful meals, and on special occasions we get together with our guests and have a potluck dinner.
Music is a big part of our lives, and our living room is our music room hosting a collection of musical instruments from around the world. Mei Lin likes classical music and plays the piano, Ross like Jazz, and plays the clarinet.
We enjoy walking, biking, swimming, cross country skiing and gardening.
As hosts we are "no fuss" and want you to feel like you are visiting friends who don't mind if you come and go at any time, We are also good for tips on the area - what to see, where to eat. And we're happy to have a conversation with if you feel like it, or just as happy to let you come and go as you please.
+ Mehr
Palo Alto, Kalifornien, Vereinigte Staaten
Mitglied seit Januar 2009
Antwortrate:
90%
(letzte 10 Kontakte)
Antwortzeit: innerhalb einiger Stunden
---
Closest Gym - 2 blocks away. $15 per day in 2011 for walk ins.

High Street

Palo Alto

CA

94301

Restaurant started by Googles first Executive Chef - great food, reasonable prices, 10 minutes walk from home

Two houses down from the intersection of Scott and Addison Street is the Historic HP garage where Packard and Hewlett developed the first products of the company that became HP. 2 minutes walk

Scott St

Palo Alto

CA

94301

Hot meals available from 9 am to 10 pm within 5 minutes walk. Many of our guests eat there at the cafe tables or bring back their take out containers and eat in the garden or at the dining table.

Palo Alto

CA

94301

Closest place for Lattes and Capuchinos

Homer Avenue

Palo Alto

CA

94301

For garden lovers - stroll among flower beds, topiary and fountains that surround the former home of Elizabeth, the grandaughter of Proctor and Gamble who donated her home to the city of Palo Alto.

Palo Alto

California

Really good yoghurt and killer hot chocolate. 5 minutes walk away.

emerson

Palo Alto

CA

94301

good food nice surroundings beautifully presented

Bryant St

Palo Alto

CA

94301

Dim sum - cooked to order and served piping hot - signature Taiwanese Noodle dish is unusual and tasty

University Ave

Palo Alto

CA

94301

When you feel like a bowl of Pho or other Vietnamese delights

University Avenue

Palo Alto

CA

94301

Every Friday from 5-7 pm is a wine social where you can practice Italian. We come here for coffee on the weekends

University Avenue

Palo Alto

CA

94301

An open air Destination Mall that feels like strolling through a Garden. Bloomingdales, Neiman Marcus, Macys, Pottery Barn, Godiva Chocolate, are just a few of the top name retailers here.

Stanford Shopping Center

Palo Alto

CA

94304

The premier university on the west coast, Stanford Industrial Park was the fore-runner of Silicon Valley when Engineering Prof Fred Terman encouraged his students to be entrepreneurial.

CA

One of those rarities on the west coast - a REALLY LARGE bookstore. if you love books, you must visit this in the heart of Stanford. Check out White Plaza, Student Union and Quadrangle nearby.

Stanford

CA

94305-3003