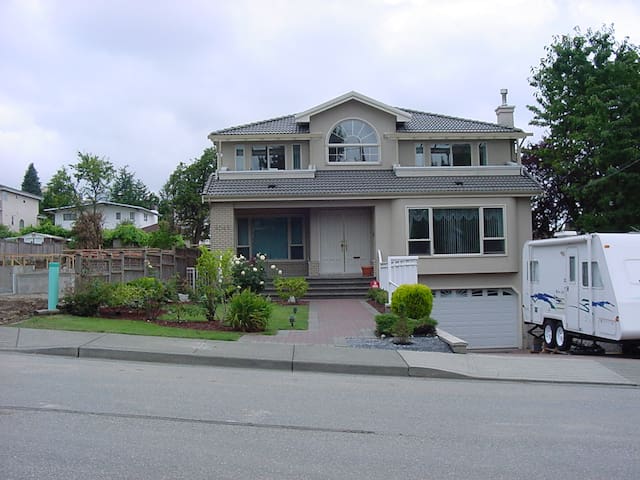 Gemeinsames Zimmer
1 Gast
1 Bett
Über dieses Inserat
Mit Airbnb kannst Du einzigartige Unterkünfte finden - von Häusern und Wohnungen bis hin zu Baumhäusern und Iglus. In den Details des Inserats unten wird beschrieben, was Du in dieser Unterkunft findest. Solltest Du Fragen haben, kannst Du den Gastgeber direkt kontaktieren.
---
Art des Bettes: Richtiges Bett
Unterkunft für: 1
Schlafzimmer: 1
Badezimmer: 1
Betten: 1
Hausregeln
Hausregeln
Lies die Regeln, bevor du buchst
---
Ausstattung
Küche
Ort, an dem Gäste ihre eigenen Mahlzeiten zubereiten können
Heizung
Zentralheizung oder Heizlüfter in der Unterkunft
Waschmaschine
Im Gebäude, kostenlos oder gegen Gebühr
+ Mehr
Küche
Küche
Ort, an dem Gäste ihre eigenen Mahlzeiten zubereiten können
Internet
TV
Wesentliches
Wesentliches
Handtücher, Bettwäsche, Seife und Toilettenpapier
Heizung
Heizung
Zentralheizung oder Heizlüfter in der Unterkunft
Klimaanlage
Waschmaschine
Waschmaschine
Im Gebäude, kostenlos oder gegen Gebühr
Trockner
Trockner
Im Gebäude, kostenlos oder gegen Gebühr
Kostenloser Parkplatz auf dem Grundstück
WLAN
WLAN
Ununterbrochener Zugang in der Unterkunft
Kabelfernsehen
Frühstück
Frühstück
Es gibt Frühstück.
Haustiere erlaubt
Familien-/kinderfreundlich
Für Veranstaltungen geeignet
Für Veranstaltungen geeignet
Die Unterkunft eignet sich für Veranstaltungen mit 25 oder mehr Teilnehmern
Rauchen erlaubt
Für Rollstuhlfahrer geeignet
Für Rollstuhlfahrer geeignet
Das Gebäude und die Unterkunft sind für Gäste im Rollstuhl leicht zugänglich
Aufzug im Gebäude
Kamin
Türöffner/Gegensprechanlage
Pförtner
Pool
Pool
Privat oder öffentlich
Whirlpool
Fitnessstudio
Fitnessstudio
Kostenlos, im Gebäude oder in der Nähe
Rauchmelder
Kohlenmonoxid-Detektor
Erste Hilfe-Set
Sicherheitsanweisungen
Feuerlöscher
---
---
Beschreibung
Large and cool bedroom with stove, fridge, microwave, kitchen sink, shared bath, wireless internet, heat, shared living room, and private access.
❤Beautiful rooms at Deer Lake location
❤Fully furnished Double Size Bed (NEW) and desk
❤Convenient and quiet residential neighbourhood (Chinese, Vietnamese food, White Spot, Safeway, wholefood, banks, fitness centre)
❤Skylights, Vaulted ceiling, Automated well-lit, and clean shared areas
❤Close to the largest shopping mall of Canada "Metrotown"
❤Bus stops for route 144 Metrotown/SFU
❤7 min to Metrotown Skytrain Station
❤Soaps, towels, linen, and hair dryer provided. High Speed Wireless Internet, *local phone line and cable TV included
❤Shared kitchen and free laundry for tenants
Access to fridge and microwave, laundry and dryer. Free parking on the street, or convenient bus stop right outside our place which will take you to the largest mall in Canada and local heritage park within 5 minutes. We are also within walking distance to beautiful Deer Lake. We have a beautiful garden and friendly landlord.
Businesses Convenience Nearby:
Lordco, GOLDWELL Bank, Steve Nash Fitness World, Whitespot, Pho Hoa, 508 Bistro, Denny's, Safeway, 7-11, TD Canada Trust, London Drug
★We guarantee this is the cheapest and highest quality accommodation in our area!★
Backyard, basement living room, kitchen, laundry, front yard
Please don't park on the opposite neighbour's house.
+ Mehr
---
Electronic Agreement
--------------------------------------------------------------------------------------------
Landlord rents one room in 6045 Denbigh Av Burnaby, BC to Tenant on the following terms and conditions:
1. The premises are rented with the following appliances: Refrigerator and Laundry machine. Other appliances may be included in the rental property that are the sole responsibility of the tenant to upkeep. The landlord will not be responsible for the upkeep of these appliances and does not warrant the condition of these appliances. The above rental payment specifically EXCLUDES any appliances other than the refrigerator and laundry machine. Such appliances as are in the property are there solely at the convenience of the Landlord, who assumes no responsibility for their operation. Landlord agrees to remove appliances at the request of Tenant. Any personal property remaining on the leased Premises may be used by the Tenant, however the Tenant assumes sole responsibility to keep said personal property in working and/or operating condition, and agrees to return said personal property to the Landlord at the termination of this Lease Agreement in the same or better condition, or accept confiscation of the full deposit as cleaning charge.
2. Tenant agrees to paying AirBnB base rent on the first day of arrival. In the event rent is not received prior to the 1st day, regardless of cause. If Tenant leaves the premises unoccupied for 15 days without paying rent in advance for that month, or while owing any back rent from previous months, which has remained unpaid, the Landlord and/or his representatives have the right to take immediate possession of the property and to bar the Resident from returning. Landlord will also have the right to remove any property that the Residents have left behind and store it at Tenant's expense.
3. The Tenant agrees to keep the property free of weapons, dangerous goods, and free of illegal activities. The Tenent will not use or store drugs and marijuana in the property. The Tenant acknowledges that smoking cigarette is prohibited indoor.
4. No rights of storage are given by this Lease Agreement. The Tenant agrees to hold the Landlord harmless from any liability by reason of personal injury to any person and for property damage occurring on or about or connected with the Premises or resulting from the Tenant use thereof. The Tenant hereby acknowledges this and agrees to make no such claims for any losses or damages against the Landlord. The Tenant agrees to relieve the Landlord of all risks that may be insured. They acknowledge that it is their responsibility and they alone shall bear the consequences.
5. The Tenant shall use customary diligence in care of the Premises. All outdoor shoes are not to be worn indoors. All repairs shall be done in compliance with all applicable codes and regulations. Any repair cost of appliances, which was used accordingly will be covered by the landlord. The Tenant acknowledges responsibility for any damages caused by their negligence and that of their guests or invitees. Smoking is allowed only in designated outdoor areas provided with ashtrays.
6. All rights given to Landlord by this agreement shall be cumulative in addition to any laws that exist or might come into being. Any exercise of any rights by Landlord or failure to exercise any rights shall not act as a waiver of those or any other rights. No statement or promise by Landlord, its agents or employees, as to tenancy, repairs, amount of rent to be paid, or other terms and conditions shall be binding unless it is put in writing and made a specific part of this agreement. If the Tenant fails to comply with the agreement and fails to cooperate after receiving a warning from the Landlord, the landlord reserves the right to expel the Tenant and any other persons within the same agreement any time.
7. Tenant agrees to keep quarters clean and in sanitary condition as to prevent any inconvenience of other persons sharing the quarters. The Tenant agrees not to permit any deterioration or destruction to occur while they are occupying the property. They agree to maintain the walls, woodwork, carpets, furnishings, fixtures and appliances (if any), windows, screens, doors, fences, plumbing, heating, electrical and mechanical systems as well as the general structure and appearance of the property. Tenant agrees to follow all Landlord instructions, especially where posted. The Owner reserves the right to enter the residence at reasonable times to inspect, make necessary repairs, and supply services. Tenant is not allowed to give away Door Lock Password to anyone not bound by this agreement with the landlord.
8. No additional locks will be installed on any door without the written permission of Landlord. The Tenant specifically agree that no tacks, nails, screws, etc., will be driven into the walls, nor will they be marred or torn by glue or tape. They also acknowledge that they will be responsible for and pay any damage done by rain, wind, hail, snow, earthquake, etc., if this damage is caused by leaving windows open, allowing stoppage and/or overflow or water and/or sewage pipes, broken windows or doors, torn screens, broken door and window locks, etc. or any damage caused while Tenant has occupancy.
9. By no means may Tenant allow any additional persons to occupy premise beyond limit proposed by the law. Tenant agrees to assume all responsibility for actions taken by any person entering the property. Landlord will hold Tenant solely responsible for all damages to property or for violations against this rental agreement.
10. Resident agrees not to assign this agreement, nor to Sub-Let any part of the property, nor to allow any other person to live therein without first requesting permission from the Owner and paying the appropriate surcharge. Further, that covenants contained in this Rental Agreement, once breached, cannot afterward be performed; and that unlawful detainer proceedings may be commenced. Tenant hereby states that they have the legal rights to sign for any and all other residents and to commit them to abide by this contract.
11. The Tenant will not make private nuisance by talking or using appliances such as laundry or cooking after 10 pm.
12. If court action is sought by either party to enforce the provisions of the Rental agreement, attorney's fees and costs may be awarded to the prevailing party in the court action.
Full Disclosure:
The Tenant signing this Rental Contract hereby state that all questions about this Rental Agreement have been answered, that they fully understand all the provisions of the agreement and the obligations and responsibilities of each party, as spelled out herein. They further state that they agree to fulfill their obligations in every respect or suffer the full legal and financial consequences of their actions or lack of action in violation of this agreement. The Tenant on this Rental Agreement is acknowledged of this electronic agreement and he/she has received an electronic copy of the Rental Agreement through AirBnB.
+ Mehr
---
Keine
Rauchmelder
Kohlenmonoxid-Detektor
Erste Hilfe-Set
Sicherheitsanweisungen
Feuerlöscher
---
1 Nacht Mindestaufenthalt
2 Bewertungen
We were pleased with the room which was large and private. We were made very welcome and they suggested places to to visit which we would not otherwise have done. Would highly recommend. A very nice family. Hope we will meet them again.
+ Mehr
Über den Gastgeber, Hans
I am currently retired from government job in Canada. We have met a lot of different people from all over the world for the past 10 years in our private rental properties. Amy and I enjoy sharing their stories and have a tea time or some red wine with our tenants in the summer night. I will be communicating with potential tenants interested in reserving the rooms using this account.
+ Mehr
Redmond, Washington, Vereinigte Staaten
Mitglied seit Januar 2010
Antwortrate:
100%
(letzte 10 Kontakte)
Antwortzeit: innerhalb einer Stunde
---
Entdecke weitere Möglichkeiten in und um Burnaby