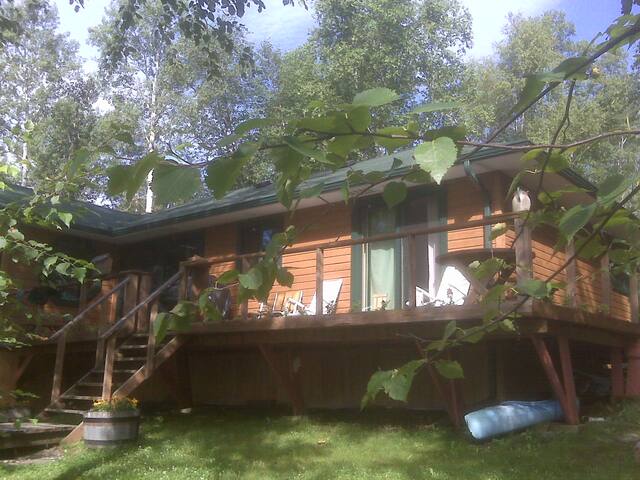 Ganze Unterkunft
6 Gäste
3 Schlafzimmer
1 Bett
Über dieses Inserat
Mit Airbnb kannst Du einzigartige Unterkünfte finden - von Häusern und Wohnungen bis hin zu Baumhäusern und Iglus. In den Details des Inserats unten wird beschrieben, was Du in dieser Unterkunft findest. Solltest Du Fragen haben, kannst Du den Gastgeber direkt kontaktieren.
---
Art des Bettes:
Richtiges Bett
---
Ausstattung
Küche
Ort, an dem Gäste ihre eigenen Mahlzeiten zubereiten können
Heizung
Zentralheizung oder Heizlüfter in der Unterkunft
Kostenloser Parkplatz auf dem Grundstück
+ Mehr
Küche
Küche
Ort, an dem Gäste ihre eigenen Mahlzeiten zubereiten können
Internet
TV
Wesentliches
Wesentliches
Handtücher, Bettwäsche, Seife und Toilettenpapier
Heizung
Heizung
Zentralheizung oder Heizlüfter in der Unterkunft
Klimaanlage
Waschmaschine
Waschmaschine
Im Gebäude, kostenlos oder gegen Gebühr
Trockner
Trockner
Im Gebäude, kostenlos oder gegen Gebühr
Kostenloser Parkplatz auf dem Grundstück
WLAN
WLAN
Ununterbrochener Zugang in der Unterkunft
Kabelfernsehen
Frühstück
Frühstück
Es gibt Frühstück.
Haustiere erlaubt
Familien-/kinderfreundlich
Für Veranstaltungen geeignet
Für Veranstaltungen geeignet
Die Unterkunft eignet sich für Veranstaltungen mit 25 oder mehr Teilnehmern
Rauchen erlaubt
Für Rollstuhlfahrer geeignet
Für Rollstuhlfahrer geeignet
Das Gebäude und die Unterkunft sind für Gäste im Rollstuhl leicht zugänglich
Aufzug im Gebäude
Kamin
Türöffner/Gegensprechanlage
Pförtner
Pool
Pool
Privat oder öffentlich
Whirlpool
Fitnessstudio
Fitnessstudio
Kostenlos, im Gebäude oder in der Nähe
Rauchmelder
Kohlenmonoxid-Detektor
Erste Hilfe-Set
Sicherheitsanweisungen
Sicherheitsanweisungen
Hinterlegte Notfall-Informationen und -Telefonnummern
Feuerlöscher
---
Zusätzliche Personen:
Keine Gebühr
Wochenpreis:
1098€

/Woche
---
Beschreibung
Moon Over Jessica is for those seeking a quiet lakefront cottage, ideal for time with friends & family, or a secluded weekend get away in a natural setting. Rustic 1950 cottage is a charming blend of well-maintained original decor & modern upgrades.
Private lakefront cottage facing south; sandy beach, dock, large deck, AC, 1 full bathroom, full kitchen, gas BBQ, screen porch on water's edge, kayak, SUP. Grass lawn, gentle slope, parking on property. Excellent fishing for walleye, northern, perch. Good windsurfing location. Cell phone tower (Shaw/MTS/Bell) 1/2 mile away. Sat TV, DVD. Ceiling fans in each room - cottage is well shaded by poplar and birch. Beautiful water views from 8X6 LR picture window, deck and dock! 1 king, 1 queen and 1 dbl bed. Woodburning stove and electric heat. 950 sq. ft. Stores, gas, liquor, restaurant, DVD rentals, fishing lic/minnows nearby. 18-hole championship golf: Granite Hills (1.2 hr.), Pinawa (1 hr.) Falcon Beach (45 min.). Northern lights are a memorable sight in this dark region where little light pollution interferes with the spectacle!
The staging area for five hiking trails is adjacent to Moon Over Jessica, off PR 307. These multi-looped trails through Precambrian Shield country offer an array of hiking experiences. Jessica Lake to Rainbow Falls, 8 km; allow three and a half hours. Loop A, 1.3 km; allow 45 min. Loop B, 1.5 km; allow 45 min. Loop C, 3.5 km; allow one and a half hours. All distances are return.
Nearby bicycle trails too!
................. __o
............... \ ,
............ ( ) / ( )
We do not have an internet connection or wifi, Rogers cell users can use their iphone or Galaxy for a hot spot and connect thru that (We don't know how to do that, but apparently it is not that hard. Says the guy with a shed full of old rusty tools that he thinks are cool.) There is excellent Rogers connectivity but no Telus service.
We have a full time caretaker and maintain the cottage thoroughly. For example - just replaced the hot water tank with a new, larger unit! (June, 2014) Questions or issues? Pauline - (email hidden) (phone number hidden) or Sean - (email hidden). (phone number hidden). My number is (phone number hidden).
Our guests are welcome to use everything except the boat and the windsurfing gear. A 1997 Lexus ES300 is available if desired, for a fee. (Airport pick-up too.)
There is a new Keurig coffee machine stored in the small bedroom closet. Guests are welcome to this or the 1970 model in the kitchen. There is no way to drain the water out of the Keurig, so it is best to run several large cups of hot water until the machine calls for a refill.
We are not at Moon Over Jessica when guests are.
Quiet, peaceful and serene. Our cottage is on the shore; a lodge is next door on one side and the other neighbour is a private cottage. Moon Over Jessica is surrounded by spruce, poplar and birch trees and lots of bushy understory which offer good privacy, especially in the summer.
The White Lake store is about a half hour walk along the highway or a five minute drive. Bring your bikes.
The cottage was built in 1950 (without power tools!) and while it has been enlarged once, it retains much of the original material and furnishings -- it's a true Mid-Century Modern home!
Last . . . thank you to our 2014 renters! We feel fortunate to have had such great people share Jessica Lake with us. Everything went smoothly (*pretty* smooth ;-) just like years prior) and we are looking forward to 2015. Guests who return seem to understand that we are not Marriott Over Jessica, and appreciate the cottage as we do - complete with some shortcomings and quirkiness.
+ Mehr
---
The location of the key to the back door (wood, side-hinged) will be provided when you book. Please put the key back there for the duration of the trip, just-in-case and also so you don't forget to leave it for the next person. The keys to the "Mangrove" (converted boathouse - now a screen porch) are on a hook just inside the back door, next to the coat hooks - please store Mangrove keys there, once you have opened up the Mangrove padlock.
Bring your own bedding and towels. (Call if this is a problem.) Conserve water. No pets or smoking in cottage. Clean spills on cork floor promptly. Run AC for no more than an hour at a time. (Cottage stays cool in all but most severe weather.) No cardboard or plastics in fireplace - wood and newspaper only. Leave no food or garbage outside - be bear (and skunk) smart! (Garbage and recycling containers at boat launch, next to highway just south of Block 2 road.)
NOTE: a new observation - open and close the valve on the propane tank on the BBQ very S-L-O-W-L-Y so that it does not trigger the safety mechanism and cause the valve to close. It is an idiosyncrasy of the newer tanks and if triggered, takes a while to re-open. We try to have TWO tanks there, but if you do run out, more available at White Lake, just up the road to the north.
Also, in warm weather, the Mangrove may be pressed into service as a rustic :-) extra bedroom. It's bug-proof if you close the solid door for night. You'll need to bring a foam mat (or similar) and sleeping bags for those intrepid souls who spend the night in there. NO FOOD in the Mangrove overnight, unless you crave some Ursus americanus visitors. (Seriously, be bear smart.)
Please do not throw fish guts in the lake or into the bush. Take them to the fish cleaning station bear-proof garbage can.
Please, CONSERVE WATER. For years, our family has used one tank of water for a month long stay. We keep showers short, don't flush every bathroom trip (see sign in washroom), use the outhouse and don't run taps while brushing teeth and otherwise are careful with water consumption. We will refill tank if needed for guests staying longer than a week but shorter stays are based on one tank. If you DO run out, please flip the breaker in the back entrance so that the pump does not run continuously and BURN OUT!
+ Mehr
---
1 Nacht Mindestaufenthalt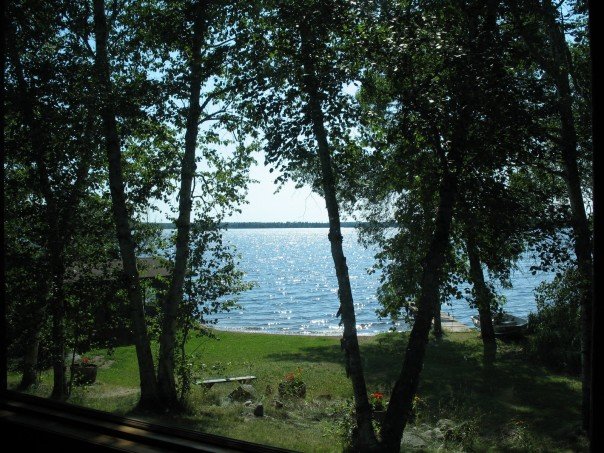 Summertime, and the livin's easy. Jessica warms up quickly because it is shallow - swim and watersports from May to September.
Our vacation at Moon over Jessica was excellent. Mitch answered our questions promptly. The cabin was clean, fully equipped and very comfortable. The fire pit, access to the lake and kayaks were especially appreciated. The area was very quiet at night and the Whiteshell is, of course, picturesque.
+ Mehr
Moon Over Jessica was the perfect place for a weekend at the lake! Mitch was very helpful and responsive to any questions. The place is exactly as discribed. Comfortable beds, fully equipped kitchen, amazing views, private yard, lake front fires by moonlight, kayaks, a dock to lounge on, and great trails in the forest accesible from just across the road made this place awesome! Would love to return and visit this place soon!
+ Mehr
Moon over Jessica was an awesome place to relax and spend the weekend. All of our questions were answered very promptly!
+ Mehr
Once again our stay at Moon Over Jessica was amazing. Mitch was prompt and patient with our questions and emails. We would be disappointed if moon over Jessica was not an annual trip for our family. Loved it.
+ Mehr
Our stay exceeded our expectations. The cottage and property were exceptionally well maintained. Mitch was quick to answer any questions that we had before and during our stay. We loved spending time fishing on the dock and campfires by the water. It was perfect for our family of four children.
+ Mehr
Four of us spent a nice quiet week at this well equipped, but traditionally comfortable cottage. It is very rare to find lakefront cottages to rent in the beautiful Whiteshell. The girls made use of the "mangrove" for crafting as it served as a gazebo to get away from mosquitoes. The boys fished and appreciated having a private dock to moor the boat. Great campfires by the water's edge with spectacular moon rises.
+ Mehr

Antwort von Mitch:
Great Chris! Glad you could make use of the Mangrove. We have plans to develop it a bit more in the direction you took it, but for now it is still partly a workshop for me, when we get out - make noise + sawdust; stay out of Jan's hair. Some big patio doors and a little deck over the water might be in the cards. (We have more plans than dollars or days.) The coffee-maker u mentioned is likely older than the first moon mission, so yeh -- we will give it a less mission-critical assignment and bring in a youngster for it to mentor. The moon is the star of the show all right -- you even had a "super moon", right? (Plus the Apollo anniversary, 45 years ago.)
The reservation was canceled 53 days before arrival. This is an automated posting.
+ Mehr
Über den Gastgeber, Mitch
Mitch - windsurfer, golfer and gramps; Jan - nanna, walker, kayaker and expert swimmer. With the help of our cottage neighbour Sean Marleau, who lives in Winnipeg, we rent out our LAKEFRONT cottage in the Whiteshell Provincial Park, on Jessica Lake. It's a great spot for:
- fishing (walleye, northern, perch)
- windsurfing - accessible for south (onshore), west and east winds -- rig your sails on our grassy lawn and leave them there in the shade for your stay; launch from our sandy beach. EPIC conditions when two-day Southers settle in on a low barometer. Live slow - sail fast!
- stand-up paddling, kayaking (both available for your use)
- swimming, sailing, boating, watersports >> an excellent government public boat launch is just around the corner in the next bay, right off the highway. Also a fish-cleaning station and dock.
- canoeing is great on the lake and many multi-day trips launch from Jessica. Journey via the Whiteshell river which feeds Jessica Lake and/or via portage to remote lakes nearby. We have an older canoe but bring your own if you are serious.
- sitting on the dock and watching the dragonflys and swallows
- an elevated deck on the cottage provides access to sunshine all day (the dock is shaded @ about 4 pm in the summer)
- nighttime bonfire on the beach; watch fire-flies, star-gaze and watch the satellites go by on clear nights
- relaxing in the screened Mangrove (a converted boathouse) to play cards or watch distant thunderheads or the moonrise over Jessica
- sunrise yoga on the dock - let me just say that again - sunrise yoga on the dock :-)
Championship 18-hole golf is available at Pinawa and Granite Hills to the north, Kenora to the east and Falcon Beach to the south - all within an hour's scenic drive.
Hiking trails, cross-country ski trails and snowmobile trails are all within a half mile or less. Bicylists have the winding, hilly 2-lane highway for touring or mountain bike on the trails.
Stores, restaurants, beer vendor/liquor sales, marinas, gas stations, movie rentals all within 5-15 miles on paved 2-lane highway.
The lake is only really busy on long weekends in summer - otherwise it is a pretty serene spot. There are neighbours, so even in the winter, you will not be totally isolated.
Our insulated, well-shaded cottage offers air conditioning, a wonderful view of the lake and all the comforts of home, plus the comforting rushing sound of poplar leaves at night, a unique sound that you will not soon forget.
We live in Chilliwack, BC and as mentioned above, we have Sean look after the cottage.
We like to travel and SWAPS would be really COOL. Some places we hope to visit: Kintyre region - Scotland; Ireland; Palm Springs; Scottsdale; Gearhart, WA; Tacoma, WA; St. George, Utah; Caye Caulker, Belize; Florence, OR; Bandon Dunes, OR.
+ Mehr
Chilliwack, Kanada
Mitglied seit August 2011
Antwortrate:
100%
(vergangene 90 Tage)
Antwortzeit: innerhalb eines Tages
---
The Jessica Lodge is next door to Moon Over Jessica.

Rennie

MB

R0E 1R0