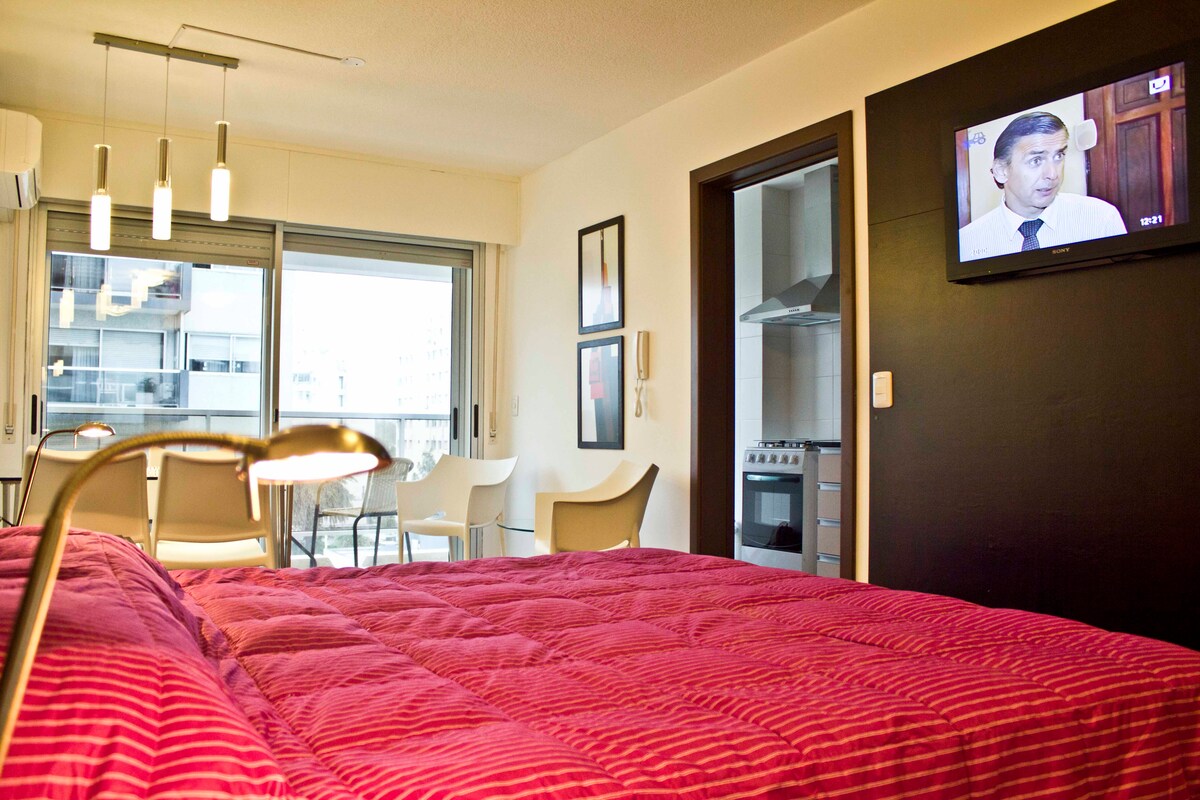 Ganze Unterkunft
2 Gäste
1 Schlafzimmer
2 Betten
Über dieses Inserat
Mit Airbnb kannst Du einzigartige Unterkünfte finden - von Häusern und Wohnungen bis hin zu Baumhäusern und Iglus. In den Details des Inserats unten wird beschrieben, was Du in dieser Unterkunft findest. Solltest Du Fragen haben, kannst Du den Gastgeber direkt kontaktieren.
---
Unterkunft für: 2
Schlafzimmer: 1
Badezimmer: 1
Betten: 2
Check-In: 14:00
Check-Out: 11:00
---
Ausstattung
Küche
Ort, an dem Gäste ihre eigenen Mahlzeiten zubereiten können
Heizung
Zentralheizung oder Heizlüfter in der Unterkunft
+ Mehr
Küche
Küche
Ort, an dem Gäste ihre eigenen Mahlzeiten zubereiten können
Internet
TV
Wesentliches
Wesentliches
Handtücher, Bettwäsche, Seife und Toilettenpapier
Heizung
Heizung
Zentralheizung oder Heizlüfter in der Unterkunft
Klimaanlage
Waschmaschine
Waschmaschine
Im Gebäude, kostenlos oder gegen Gebühr
Trockner
Trockner
Im Gebäude, kostenlos oder gegen Gebühr
Kostenloser Parkplatz auf dem Grundstück
WLAN
WLAN
Ununterbrochener Zugang in der Unterkunft
Kabelfernsehen
Frühstück
Frühstück
Es gibt Frühstück.
Haustiere erlaubt
Familien-/kinderfreundlich
Für Veranstaltungen geeignet
Für Veranstaltungen geeignet
Die Unterkunft eignet sich für Veranstaltungen mit 25 oder mehr Teilnehmern
Rauchen erlaubt
Für Rollstuhlfahrer geeignet
Für Rollstuhlfahrer geeignet
Das Gebäude und die Unterkunft sind für Gäste im Rollstuhl leicht zugänglich
Aufzug im Gebäude
Kamin
Türöffner/Gegensprechanlage
Pförtner
Pool
Pool
Privat oder öffentlich
Whirlpool
Fitnessstudio
Fitnessstudio
Kostenlos, im Gebäude oder in der Nähe
Rauchmelder
Kohlenmonoxid-Detektor
Erste Hilfe-Set
Sicherheitsanweisungen
Sicherheitsanweisungen
Hinterlegte Notfall-Informationen und -Telefonnummern
Feuerlöscher
---
---
Beschreibung
Apartament - studio with separate kitchen and balcony, located in the best area of Montevideo next to great restaurants, bars, cinemas, supermarkets, three blocks from the beach very well furnished, acomodating two people or singles
Apartament - studio with separate kitchen and balcony, located in the best area of Montevideo next to great restaurants, bars, cinemas, supermarkets, three blocks from the beach very well furnished, acomodating two people, singles ou couple, flat tv, internet wi fi, air coditioning, cold and worm, easy transportation to and from anywere in town, 24 hs door man. Check for avaliabillity - we have others also in Punta del Este
We speak Spanish, Portuguese, Italian, French, English, Hebrew, Arabic & German, Pick up from and to airport avaliable under previous consultation. We can also provide rental cars, such as BMW - Mini Cooper or Coutryman
The building is brand new as well as it's furniture - and the location is the best in town - at one steap of your door - you'll find from the best restaurants - great supermarkets - cult movie house arround the corner - steps from best shopping centers - three blocks from the Pocitos beach walkside - great for exercicing in the mornings or just for a stroll .
If you have rented a car you can leave it arround the corner at night with no payment and safe or you can park it next door parking lot for abou us$ 5 a night
Our service will includes fresh towells and sheets as well as cleaning once a week and a 24 x 7 Security guard at reception as well as a help clerk on a direct local phone line Be on the BEST PLACE much better and for a lot LESS than a hotel You won't regret it - Most recomended !!!
You'll have access to all the amenities of the building like solarium on the top floor - barbeque (by previous reservation and cleaning fee)
24 x 7 Front door clerck and security guard
We're avaliable 24 x 7 either by phone (website hidden) or e-mail
Steps from the building you'll find the best supermarkets in town - great restaurants - cult movie houses - few steps from the sea shore - pubs and night life not far and all kinds of support services like food deliveries - laundry - shopping centers & malls and all you might need for a short or long period rental
Just crossing the street you can catch a bus to and from anywere in town or if preferable just extend your hand to any taxi that passes by
If you are planning to rent a car or make arrangements for sightseeing or any other aditional services please count with our top last models car fleet - or our sofisticated travel services
+ Mehr
---
Non smoking
No pets
No disturbance with high sounds after 10 PM
All guests should fill in with personal data a registartion form prior to entry
Copies of travel documets should be provided at check in
Familly contacts or friends in native country should be provided (in case of accident or urgent need)
For rental periods longer than one month - guarantee deposit should be provided
Every single item in the apartament is listed with it's own price and should be signed and agreed when checking in -
As on check out if anything is broken should be charged accordingly
+ Mehr
---
Keine
Smoke Detector
Carbon Monoxide Detector
First Aid Kit
Safety Card
Fire Extinguisher
---
3 Nächte Mindestaufenthalt
Gostamos muito do apartamento: novo, seguro, confortável e bem localizado.
Não houve nenhum problema em contatar o proprietário e estavam nos aguardando à porta quando chegamos. Perfeito!
Gilvane Felipe
+ Mehr
Aus Goiânia, Brasilien ·
Juli 2014
The apartment was great. Exactly as described in the best area in Montevideo. Leopoldo was prompt, easy to contact and very helpful. Leopoldo was in Rio at the time of my stay, but Alejandro, his associate in Montevideo, was excellent. He was there to greet me and gave great instructions. I would definitely recommend this place or one of the other similar suites available through Leopoldo.
+ Mehr
Aus Montevideo Department, Uruguay ·
Juli 2014
We absolutely loved our time in Montevideo. The apartment was just as described. Clean, spacious and in a really great location! Leopoldo was away so he arranged for Alejandro to meet us who was just lovely! Highly recommended host and apartment.
+ Mehr

Antwort von Leopoldo:
Hi Sandy - great - I thought about it and for sure I'm looking for a system that could give me the freedom of hosting couples (who sleep toghether) as well as two singles (were I have to separate the beds) I know that there are some kind of dual mattresses coverts that wil give the sensation that there's only one mattress but I didn't find nothing similar in Uruguay avaliable in the market - But for sure I'll be taking your advise into consideration and will work to get to a final and very confortable solution - Be well Leopoldo
I went to Montevideo for vacation and to study Spanish. I had a great time in Montevideo and Leopoldo's apartment helped me have a great experience. The apartment is beautiful and well located. I recommend the apartment to anyone needing a place to stay in a cool area of the city.
Fui a Montevideo para las vacaciones y para estudiar español. Tuve un gran tiempo en Montevideo y el apartamento de Leopoldo me ayuda a tener un gran experiencia. El apartamento es bonito y bien situado. Recomiendo el apartamento a cualquiera que necesite un lugar para alojarse en un lugar elegante de la ciudad.
+ Mehr
Aus Portland, Maine ·
Februar 2014
Overall, the apartment is good. It is very small though, you cannot appreciate how small in the photos, but that wasn't a problem for me since I was alone. The service was very good and polite and the location very convenient. However, there were some annoyances that could easily be avoided with a little more care from part of the hosts:
- The air conditioning drain goes to a bottle that you have to empty regularly.
- The shower sprinkler is very loose and may fall if you are not careful.
- There is a glass soap dish in the corner that is very loose also, and the soap just slides, I needed to improvise a fix.
- The closet doors slide without touching them so in order to keep them open while you are searching for clothes you have to stop the door with your body.
Another issue is the traffic. Despite the double glass window, you can hear it, but hey, you are in the middle of the most populated area in the whole country.
Overall, I can recommend the place specially because Leopoldo is very responsive and you can talk with him at any time.
+ Mehr

Antwort von Leopoldo:
Hi Eduardo - regarding the air conditioning drain You're right - is a pain in the neck but is not our fault when the building was constructec the arquitect forgot to instal a drain system for all apartments so unfortunatedly we have to use the bottle and empty it from time to time - As per the closet door you were changing their positions and when that happens it slides back - regarding the shower sprinkel and the soap glass - we changed it imediatedlly after we were notifyed - Thanks again for choosing us and we'll be awaiting you back next time you visit your home land - for sure very different from the one you choosed to live
Thank you Leopoldo. The apartment was in a good area, parking a rental car on the street is fine. Everything was in good shape. The security people at the front desk were nice and always right there. I was met as promised at check in and shown the apartment. Language was a bit on an issue, but most everything got figured out. The biggest problem there is the road noise. It is a busy street and fairly loud up to 23:00 hours or so. After that it quieted down. Size wise it would be fine for 1 or 2.
+ Mehr
Aus Portland, Oregon ·
Oktober 2013
Leopoldo nos deu um excelente atendimento, muito prestativo e simpático. O apartamento é maravilhoso, exatamente como nas fotos, bem localizado, em um ótimo prédio e em uma área super agradável também.
Tudo funcionou as mil maravilhas, o banho que tivemos problemas no início (o segundo banho sequencial não esquentava), foi resolvido quando encurtamos o tempo de uso do chuveiro. Tudo bem tranquilo, fácil de resolver e de nos readecuarmos. Apartamento limpo, organizado em estado novíssimo.
Adoramos o tempo no apartamento do Leopoldo, foi complementar a nossa ótima estadia em Montevideo!
+ Mehr
Aus Rio de Janeiro, Brasilien ·
Juli 2013
Über den Gastgeber, Leopoldo
O Prof. (full name hidden), nasceu em Montevidéu, Uruguai, filho de pais europeus, cursou o primeiro e segundo grau na British School, tendo viajado para Itália com a idade de 15 anos em um intercâmbio estudantil, mudou-se para Israel onde continuou os seus estudos assim como serviu como voluntário. Participou ainda de experiências na formação de comunidades rurais de avançada (Kibutz) nos territórios ocupados após a guerra dos 6 dias (Merom A Golan – Kuneitra). Cursou Filosofia e Letras na Jewish University of Jerusalem sem chegar a se formar dado ao fato de ter começado a se interessar na área de Terapias Holísticas e Alternativas. Iniciou o seu treinamento da Terapia Fisher - Hoffman assim como participou dos cursos de formação de facilitadores em Eneagrama com o Prof. Cláudio Naranjo. Iniciou seus estudos de Psicologia Transpersonal (Cosmodrama) com o Prof. Pierre Weill assim como desenvolveu estudos e pesquisas em diversos institutos e escolas dos Estados Unidos (Esalen –Big Sur CA U.S.A.) e da Europa nas áreas de Light Touch, Rei Ki, Polarizacao, Prano-terapia, Reflexologia, Leitura Corporal, PNL, Psico-drama, Tecnologia do Campo Unificado, Zen Budismo, Cabala, Cromoterapia, Cristaloterapia, Ozono e Oxigenoterapia, Hipnosis Ericksoniana, Parapsicologia, Fenômenos PSI e KAPA, Kirliangrafia, Visualização criativa entre outros.Foi o fundador do Instituto SER (Primeiro Instituto de Terapias Alternativas do Rio de Janeiro 1982), participou como Facilitador, Professor ou Palestrante de inúmeros cursos, congressos e palestras ministradas em vários países.
Fala, lê e escreve com fluência: Espanhol, Português, Italiano, Francês, Inglês, Hebraico e Árabe assim como tem viajado pelos quatro cantos do mundo incessantemente a procura sempre de novas tecnologias e conhecimentos aplicáveis em prol do desenvolvimento humano. Representa hoje com exclusividade varias empresas Americanas, Européias e Canadenses, líderes mundiais em tecnologia de ponta, sendo membro ativo de várias entidades internacionais de pesquisa tais como a American Society for Psychical Research, Beith – El Society for Inner Research, AAPB, American Ass. of Psichophysiology & Biofeedback, BFE, Biofeedback Foundation of Europe e outros.
Pensamento
Durante uma era glacial, muito remota, quando o Globo terrestre esteve coberto por densas camadas de gelo, muitos animais não resistiram ao frio intenso e morreram indefesos, por não se adaptarem as condições do clima hostil. Foi então que uma grande manada de porcos-espinhos, numa tentativa de se proteger e sobreviver, começou a se unir, a juntar-se mais e mais. Assim cada um podia sentir o calor do corpo do outro. E todos juntos, bem unidos, agasalhavam-se mutuamente, aqueciam-se, enfrentando por mais tempo aquele inverno tenebroso. Porém, vida ingrata, os espinhos de cada um começaram a ferir os companheiros mais próximos, justamente aqueles que lhes forneciam mais calor, aquele calor vital, questão de vida ou morte. E afastaram-se, feridos, magoados, sofridos.
Dispersaram-se por não suportarem mais tempo os espinhos dos seus semelhantes. Doiam muito…….
Mas, essa não foi a melhor solução: afastados, separados, logo começaram a morrer congelados.Os que não morreram, voltaram a se aproximar, pouco a pouco, com jeito, com precauções, de tal forma que, unidos, cada qual conservava uma certa distância do outro, mínima, mas suficiente para conviver sem ferir, para sobreviver sem magoar, sem causar danos recíprocos. Assim, aprendendo a amar, resistiram a longa era glacial. Sobreviveram.
"Quanto mais nos ocupamos com a felicidade dos outros, maior passa a ser nosso senso de bem-estar. Cultivar um sentimento de proximidade e calor humano compassivo pelo outro, automaticamente coloca a nossa mente num estado de paz. Isto ajuda a remover quaisquer medos, preocupações ou inseguranças que possamos ter, e nos dá muita força para lutar com qualquer obstáculo que encontrarmos. Esta é a causa mais poderosa de sucesso na vida."
Tenzin Gyatso, XIV Dalai Lama
Prêmio Nobel da Paz de 1989
+ Mehr
Rio de Janeiro, Brasilien
Mitglied seit April 2011
Antwortrate:
100%
(letzte 10 Kontakte)
Antwortzeit: innerhalb einer Stunde
---